6 Resume Mistakes (And How to Fix Them)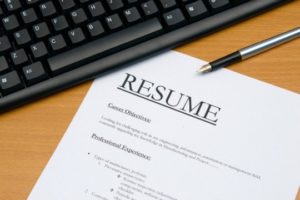 Some of us probably remember the first resume we ever created and cringe.  From changing formats and guidelines to the naivety of a first attempt, bad memories may abound. We've all made our share of mistakes on resumes, and we're more alike than we know; there are several common mistakes employers and hiring personnel see on resumes.  Perhaps you're just starting out and want to get it right, are back into a job search after a career shift, or aren't getting the calls you thought you would.  Either way, it's a good idea to know what you need to watch for when you create or edit your resume.
Here are six of the most common mistakes that are seen on resumes, and some advice on improving your odds of getting that dream job.
Typos and Grammatical Errors. Misspellings and misused grammar are, by far, the most common mistake in all writing – including resumes. Seeing an extra or missing letter in a word can cause employers to think you're a sloppy writer, or that you don't proofread and check your own work. In fact, more than half of the employers in a 2013 CareerBuilder survey identified typos as a common mistake they see that causes them to automatically dismiss a candidate. Making sure your resume is perfect in the aspects of spelling and grammar is perhaps one of the best first impressions you can make. This includes using I/She/He pronouns in your resume (simply omit them, turning "I took weekly meeting minutes for our all-staff project meetings" into "Took minutes for weekly all-staff project meetings") and using present tense for past positions (use present tense only for your current job if you have one).
A Generic Objective (Or Any at All). Unless you're in a unique industry, it might be unnecessary to include an Objective line at all; it's clear you're searching for a job similar to the one you applied for – because you applied for it. Many people are now moving away from an Objective (a statement of your employment goals/your ideal position and duties) in favor of a Profile (a small paragraph highlighting your skills, experiences, and goals in the context of the specific job you're applying for). If you do want to add an opening line, focus on what you can offer the employer when working at your desired position, not what you want from it. Encourage the employer to continue reading with what you include in your beginning line. Of the employers who participated in the CareerBuilder Survey, resumes that were generic caused 36% to automatically dismiss a candidate.
Vague Descriptions. Employers want specifics when they look at your experiences, skills and achievements. Like your objective, you need to show how you are fit for the position with specific qualifications, instead of having it full of generic soft skills that would "fit" any job. Make sure, for instance, that they know you edited and proofread the internal monthly newsletter and wrote a recurring article in it, not just that you "performed writing and editing for a newsletter." Play up your accomplishments, provided you don't embellish them – a resume is no place to be modest, nor to promise what you can't deliver. Make sure all your information in some way applies to or is useful in the position you're applying for as well. What you accomplished, when you accomplished it, and how you accomplished it, as well as any programs or tools you used, are all good to demonstrate proficiency. Your resume should be revised and customized for each position you apply for.
Being Too Wordy. When providing those specifics, try to do so as smartly and concisely as possible. Keep it as close to one page as possible, but if you would need to sacrifice important detail, two is fine as well. Three pages should be extremely rare and saved for older candidates with a multitude of experience.
Including References. Unless the employer specifically requests that you include references on your resume, don't do it. There's normally space on an application if references are needed; if you need to submit references separately, you'll be prompted to. Writing "references available upon request" is simply redundant.
Unprofessional Formatting. To make sure your resume is easy to read and not too cluttered, there also needs to be some white space on the paper – a block of text can be overwhelming and difficult to read. Eliminate unnecessary words, like putting "Phone" next to your phone number. Try to stick with a legible font that's at least 10 pt. and a margin of an inch if possible. When submitting your resume electronically, be sure to convert your document to a PDF before sending it. If you design your resume from scratch, do so thoughtfully. Use a modern, sans-serif font such as Calibri or Arial. Colors or colored paper should be avoided. Keep it simple, sleek, and easily legible. Don't get carried away with unnecessary filler and clutter such as photos, graphics, and charts.
So, what are the easiest ways to avoid these issues in your resume? The first step is to leave it alone.  Go back to your resume in one or two days' time with a fresh mind and take another look. Read it bottom to top from bullet point to bullet point to see it in a new way and hopefully catch mistakes you might have missed.  Asking a friend to help you by reading and correcting your resume is also a good way to find mistakes; you're more likely to be able to scrutinize something you didn't write yourself, because it's new to you. Another fantastic way is to use a professional service, either online or in-person, and work with an expert to determine the best way to present your information.
Written by Blog Contributor: Breanne Mason