GBS Digital Signage
GBS is an authorized reseller for UCView Products and Software.

Sign-Edge All-in One Media Player
SignEdge is an all-in-one hardware and software solution, which is easy to setup and use for premium communication with viewers.  This highly affordable standalone player is robust and has powerful computing performance.  It provides high-quality control over your digital signage network.
Digital Signage Players
Players are mini-PC devices which can be mounted on the back of a display or secured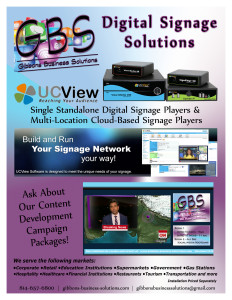 inside of a rack mount.  Players can handle a wide variety of digital signage content and are easy to install, providing optimal communication to your audience.  Unlike the all-in-one player above, digital signage players require a SaaS or server for proper network operation.  Purchasing a UCView player, however is not required.  A network operator can use their own player to run UCView digital signage.
ViewEdge Servers
A server provides a digital signage display with WAN/LAN Internet access, which is necessary to access your database.  The ViewEdge server series simplifies the process of operating a network.  Just one server can provide superior control to multiple players at one time.
Saas (Software as a Service):
SaaS is a software system which allows for Internet network access.  SaaS removes a bulk of the responsibilities required to run your digital signage and even provides you with all you need for high-quality design and delivery of content.  Since the software is hosted remotely, it removes the need to purchase additional hardware.
We serve the following markets:
Corporate
Retail
Supermarkets
Government
Gas Stations
Hospitality
Healthcare
Financial Institutions and Banks
Restaurants
Tourism
Transportation and more…
Call us to inquire about products, pricing and installation.