Top Five Reasons to Shop Local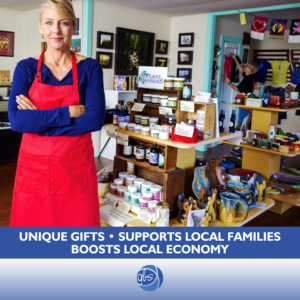 With the Holiday Season in full swing and Black Friday and Cyber Monday behinds us, many of you may still be on the lookout for the perfect present.  What if you could give a gift to yourself and your community while you purchased gifts for your loved ones and friends?  Well, you can by shopping locally this holiday!  Here are the top five reasons to keep your shopping small and local this year:
Your Money Stays Here: According to pvlocalfirst.org, when you spend $100 in a local business, $45 of it stays in the community, versus only $15 of $100 spent at a large chain! Owners of small businesses live in the communities they serve and re-invest the money you spend on their goods and services back into the community. Shopping local benefits local families, the local economy, local non-profits, and the community as a whole!
Local Business Add Character: You know that quirky bookstore down the street from your house? That business and others like it contribute to the local atmosphere and character. They create not just a shopping trip, but an experience. This benefits the local community by not only gaining business from within, but also possibly gaining business from tourists or other visiting shoppers.
You Build Your Network: Shopping locally makes it easy to partner with local businesses, as you already have a rapport with them. If you provide design services, initiate a business relationship with a local business you frequent by offering to create their business cards for a reduced rate.  Explore how you can help each other in mutually beneficial ways.
It Creates Jobs & Opportunities: This one is rather obvious: If a family-run or small business has enough customers, they will have enough income to expand and hire more help. The more jobs that are available in your area, the more your local economy will thrive!
You Can Find One-of-a-Kind Items: Perhaps the best part about patronizing a local business is that you will find locally crafted, hand-made items you simply can't find anywhere else! Small entrepreneurs can get a start by selling their products in a local gift shop or related business, so you can try art, crafts, body care, and many other items that were produced locally.
There are so many ways that shopping local benefits you and your community! You may not be able to shop at locally-owned stores for everything, but every little bit helps. So, keep that neat little gift shop around the corner in mind this season, and give back while giving!
Written by: Bree Mason, Blog Contributor