DIY Video for Business (Seminar Series)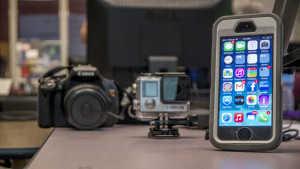 Video is the hottest trend in social media marketing.
Many people own an HD camera and even carry it with them everywhere they go – Your Smartphone. With a few low cost accessories, a little planning and practice, you can create videos that will help market your business and engage customers.
In this 2 1/2 hour seminar attendees will learn about:
Video technical specifications
Available accessories and how they will improve the quality of videos
Tips for capturing better video
Posting video to social media
Finding help for troubleshooting and learning
About the Instructor:
Linda Henderson began her video production career in Armed Forces Radio and Television. She owned and operated her own video production company, then taught video production at an adult skill center, and has been employed as a corporate media producer for a large global corporation for the past 20 years. Linda is also is a certified vocational instructor and a partner (co-owner) of Gibbons Business Solutions.
Discounts apply for groups over 5. Call for pricing 814-657-6800.
Click here to download and print our Video for Business Seminar Flyer.