What Your Trade Show Booth Needs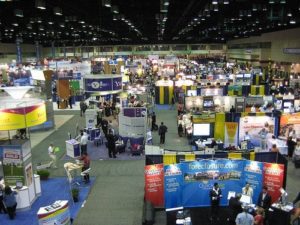 It can be overwhelming for a small company to attend its first, or even its fifth, trade show. There's a huge amount of planning that goes into this type of business endeavor, from booking hotels to securing a spot to planning an itinerary.  However, your booth itself could very well be the most important and most complicated part of attending a show.  There are plenty of guides and checklists to advise you in the entire process; however, few focus on the booth itself.  Check out this list of the most important things to make sure you provide the best experience for yourself, your staff, and your potential customers.
Clean, welcoming, and eye-catching design: Your booth is a mini open house and a window into your business' operations, so you need to make sure it sends a strong message that relates to your brand and your professionalism. Any design elements you use need to work well together.
Interaction: Include booth elements that will encourage engagement and provide opportunity for your trained staff to engage with visitors. Create a memorable experience that will help visitors remember you.
Staff Training: Plan your message and prepare your staff to deliver that message. Review all booth elements and provide a full understand of everything's purpose.
Furnishings: If you don't have much equipment by way of lights, screens, or other technological furnishings, many trade show venues offer rental of far more than a couple tables with chairs. Reserve what you need early for the best rental prices.
Graphics: Whether digital or printed, signs and other large graphics (especially with your logo, which should be everywhere you can think to put it) are important to imprinting your brand onto the mind of a booth visitor. Make sure these signs stand out and are simple and eye-catching.
Print Media and Free Stuff: Business cards, examples of work, and handouts of services are good. Bonus points if helps your staff open a dialogue with visitors. One way to encourage follow-up is to send print media later, rather than take it to the show.
Data Collection: Larger shows typically provide information about visitors, but it's up to you to follow-up after a show. Prepare to collect visitor contact information and have a plan for using it.
A Camera: While this may seem less "necessary", documenting your trade show opens a huge door when it comes to online, and even print marketing. Photos taken for graphics can be used in ads, on social media, your website…anywhere that you want to be seen interacting with other businesses and potential customers.
The main purpose for attending a trade show is to generate future sales. Talk to those who've attended a trade show, or the specific one you're attending, to know what to expect.  The better you plan, the more successful your trade show experience will be for both you and your visitors.  Have fun!
Written by Blog Contributor: Breanne Mason